CIVILON (SWE)
vinner
HANDICAP KL. 2
(2023-10-07)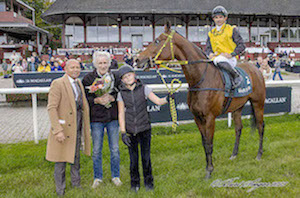 CIVILON (SWE) vinner säker med 2 längder Handicap Klass 2 med 60 kg. över 1400 meter med tiden 1.25,1 på mjuk bana och Elione Chaves i sadel.
Det är STALL LILJETORP som äger Halluciinate sonen som fick 29.500 DKK i första pris.
I vinnarcirkeln ses från höger Ida Wolfgang, Ulf Henriksson och Francisco Castro.
Uppfödare är Ulf Henriksson.
Foto Burt Seeger.
Congratulations to the all winning connections!!!